The Hairy Wild Man from Botany Bay, Part 1
Why does a 1802 pamphlet in our collection include this curious image?
4 May 2014
Recently I called up Nan Kivell's large publication Portraits of the Famous and the Infamous: Australia, New Zealand and the Pacific, 1492-1970 which was finally printed in 1970 at considerable expense to him. Nan Kivell laboured over this encyclopaedic work with Sydney A. Spence, his collaborator, for decades and obsessively ensured its production was to his exacting standards - as an ex-bookbinder he felt that this was obviously very important. The alphabetically arranged volume commences with Abba Thulle, the 'King of Pelew' and ends with the Rev. J.H.L Zillmann – rector of St Paul's Church in Ipswich Qld – a truly catholic selection. The work was in many ways the culmination of his pictorial collecting project in which he set out to comprehensively document the voyages, people and development of the Pacific area over hundreds of years. He left New Zealand aged 18 for the First World War in 1916, and never returned to it, despite repeated promises that he would. 
The Hairy Wild Man from Botany Bay
While trying to navigate the book, (not straightforward as the many images rarely align with the descriptions of the subjects which they depict), I was rather surprised to come across an image from a pamphlet featuring the Hairy Wild Man from Botany Bay (NK92). This surprising creature is featured at the very end of the book and I was a little flummoxed as, after more than 15 years of looking at the Nan Kivell collection, I had no idea it existed. I could not understand why it had not emerged on any parallel searches of the NLA catalogue for items connected to Botany Bay, monsters or bunyips which I had made over the years. It turned out that one needed to search on the work's title "A tour through Apollo Gardens, in Gawsworth, near Macclesfield, Cheshire" which is perhaps why it has not been exhibited or investigated more widely before the present.
The pamphlet was included by the great Australian bibliographer John Ferguson in his Bibliography of Australia (F361a) and also included in an exhibition organized by the National Library to honour Ferguson in the Menzies Library at ANU in 1965. As far as I can see this is the only time it has ever been publicly exhibited. I plan to include it in our next Treasures Gallery display (in August) where it rightfully belongs. 
The enigmatic invention, the Hairy Wild Man of Botany Bay, is the only image featured in the booklet, which runs to 13 pages. The work was printed in 1802 in Congleton, Cheshire by one J. Dean. It would seem that this is the only extant copy of the pamphlet anywhere which again asserts its 'treasure' status. I have found a small collection of verses also printed by J. Dean held in the Bodleian Library collection at Oxford. My favourite is Dick the Lamplighter:
 I'm jolly Dick the lamplighter-
They say the Sun's my dad;
And truly I believe it, Sir,
For I'm a pretty lad.
Father and I the world delight,
And make it look so gay;
The difference is I lights by night,
And father lights by day.
Jolly Dick goes on to point out the differing behaviours of people at night and people during the day and their varying moral codes under the cover of darkness.
The story relayed
But back to a quick summary of the Tour through the Apollo Gardens. The narrator of the adventure passes through a "very antique gate" and encounters the Great South Sea and proceeding up an Alder Grove comes to the "Holy Well" in "New South Wales, Lat. 34 South, Long. 208, 37 west"  (Strangely the latitude for Botany Bay is exactly correct but the longitude given here, is odd as it is actually 151.23° east. Longitude of course only spans 180° east or west not up to 208° -  of course the Greenwich meridian was only finally agreed upon as the universal Prime Meridian in 1884 at the International Meridian Conference.)
The narrator then is surprised to encounter nearby "…a piece of music, similar to an English Organ, but played by water."  Via a figure of Apollo and Beeston Castle in Cheshire and "a Night piece" in verse in the sky, the narrator then visits Long Island and Providence Island.
Interestingly the piece of verse I have discovered is an unattributed excerpt from Milton's Paradise Lost. The pamphlet quotes Milton again and some other poetry along the increasingly strange, dreamlike journey leading the narrator via a Hermit (who is also a Freemason!). Our narrator, hearing the clinking of chains suddenly beholds, "The Den of the Wild Man from Botany Bay" and, barely having time to read the inscription, the door bursts open and out comes the Hairy Wild Man, furious, but luckily his chain prevents him from mauling our visitor. He describes him,
"His body was all over covered with hair at least two inches long; and over his eyes it was something longer, so that I could scarcely distinguish them. His beard was monstrously long and black, as was the Hair of his head, which hung clotted down his back. When he stood up, I supposed him to be about six feet high, but from the motions he made, and the attitude he was in, it appeared he was as much used to go on his hands and feet, as upon the latter only. In the former posture he was much more frightful than the ugliest bear I had met with in all my travels. Before his den lay a heap of bones apparently of different animals, most of them clean picked, which fully convinced me that he was a carnivorous animal."
The image of this monstrous vision illustrating the pamphlet clearly depicts him holding a 'clean picked' bone in his manacled hand or paw, but no pile of bones. He also brandishes a club rather belying his countenance which is more benign than terrifying I think. More Maurice Sendak than grizzly bear or gorilla. Via more poetic excerpts (including an excerpt from Pope's version of Homer's Iliad) and more copyright infringements the narrator exits the gardens back at Botany Bay again where he sees a large monkey and a beautiful canoe. Quite a journey!
Interestingly, in the State Library of New South Wales collection exist two earlier printed broadsides (c. 1789-90) relating the fantastic story of the capture and transportation of "a wonderfully large Wild Man or Monstrous Giant" from Botany Bay who was allegedly landed in Plymouth from the Rover. He is recorded as "the greatest curiosity in England, being the largest man in the known world, though some say there are larger in New Holland."
One of the broadsides features a woodblock print of this monstrous discovery in which he is shown guarded by two gun-toting men and is described in very politically incorrect terms as,  
"9 feet 7 inches high, 4 feet 10 inches broad, a remarkable large head, broad face, frightful eyes, a broad nose and thick lips like a black, very broad teeth, heavy eye-brows, hair stronger than a horses' mane, a long beard strong as black wire, body and limbs covered with strong black hair, the nails of his fingers and toes may be properly called talons, crookt like a hawk's bill, and as hard as horn, in short he is viewed with admiration and astonishment on account of his huge size."
Clearly a fabrication, the story illustrates, like our pamphlet, the burgeoning interest in the early life of the colony and the propensity for wily entrepreneurs to print ephemeral items seeking to capitalise on the public's incredulity.
I have also found a precursor to this story in a broadside published around ninety years earlier (1701) and held in the collection of the National Library of Scotland. This unillustrated broadside also describes the capture of a 16 foot tall hairy wild man by getting him drunk (as in the SLNSW version) and brought to Harwich on the Tempest. His owner, one Thomas Goodman, expects to make "no small gain" because his beast is, "the greatest giant that ever was seen or heard of in any age". There may of course be earlier printed stories in broadside or pamphlet form existing and I would love to hear of them. These were cheaply produced for the curious collector who may not have been able to afford the expensive published editions beginning to be produced as a result of settlement and which Nan Kivell later collected so assiduously. Of course over time these imaginative accounts grew into actual 'appearances' of freaks, monsters and curiosities in sideshows and circuses and the public appetite for the unusual or exotic was served by many live acts from 'singing mice' and 'learned cats' to Toby the Sapient Pig. Ultimately indigenous people were taken as exhibits themselves with tragic consequences. One such affecting story was described in a National Library touring exhibition entitled Captive Lives: Looking for Tambo and his companions in 1997. Curated for the Library by Roslyn Poignant the exhibition told the story of Tambo and eight other Indigenous Australians taken from Palm Island in 1892 for P.T. Barnum's circus. Poignant later published this memorable book on the subject.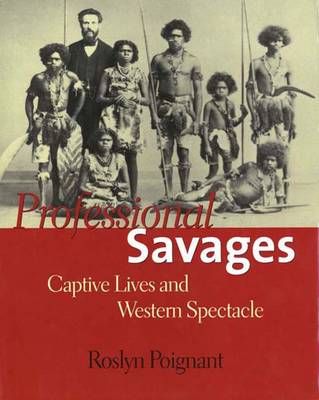 More to follow soon.  
---
This post appears in our "Treasures" blog. To subscribe to future blogposts in this blog add  http://www.nla.gov.au/blogs/treasures to your RSS reader. To subscribe to all National Library blogposts, use http://www.nla.gov.au/blogs.
Discover your Library's treasures